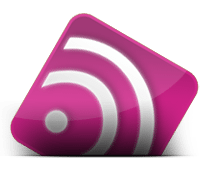 RSS is a great invention and with the evolution of technology most websites now have RSS as a means of delivering content to visitors.
RSS stands for Real Simple Syndication. However, what it really does is to convert our beautifully formatted webpages to text so that the Search Engine robots (spiders) can index and list our websites.
It is important to know that not all websites have a RSS feed (that's the terminology we tech types like to use).  Typically, static websites – those sites that have the content hard coded into the each page – don't have RSS enabled.  Dynamic sites like WordPress do and, in general, the 'feed' is enabled automatically.
Let's take a look at the uses of RSS and why the savvy website owner will enable RSS.
Reason 1: Syndicated Content
Think about the Oprah show and how that appears on TV stations all over the world.
This is syndication.  It's highly likely that Oprah started out on one TV station doing her thing – but as her popularity grew, more stations wanted to deliver that content to their viewers to increase viewership.  So they 'syndicated' the Oprah show.
Now translate that to your blog, website, podcast or other online content.  Imagine, instead of having to encourage people to your site to read your content,   you can share your content with 100's, if not 1000's of directories and sites and have that many more people visiting your site…. Wouldn't that be great?
With RSS this is entirely possible.  You can submit your RSS feed to RSS directories where other sites will pick up your content to provide interesting information to their visitors.
iTunes is a great example of how this can work.  If iTunes likes your blog talk radio show or the podcast you provide from your website, they will add you into their podcast directory – how many people run iTunes on their desktop now?  Can you see how this automatically increases your reach?
Reason 2:  Getting Indexed by the Search Engines
Seriously – do not underestimate the power of RSS to get your content listed in the Search Engines.
I'm going to talk specifically about WordPress and how this works, but you can achieve similar results with other sites.
In WordPress there is an option that will get the WordPress system to 'advise' blogging (and other) directories that you have created new content.  These directories are typically 'well loved' by search engines and are visited by spiders every few hours.  Once your site is listed in these directories, it will be found by the spiders and listed in it's on right.
Think of it as Word Of Mouth advertising – when you receive excellent service you will tell others about it.  Now, imagine that you are the 'Go To Gal' (or guy) for your niche – how many people can you refer to the new service?  This is fairly close to how blogging directories work.
Reason 3:  Make it easy for your readership to get your content
Peoples lives are just too busy in this day age and they don't always have the time to visit all the websites or blogs they would like to.
Even email is problematic – the sheer number of emails being received, the amount of SPAM and junk content and even the reliability of just getting emailed delivered all combine to add to the overwhelm.  Getting your content by email can be as much of a problem as not.
RSS can alleviate this.  Through the use of a RSS reader – a computer program that decodes the RSS feed and makes it human readable, your readers can get your content on their computer (or mobile computing device) almost as soon as you publish it.
There are two ways to use RSS readers – from a website (like Google Reader or Bloglines) or through a program that runs on your computer (Feeddemon or some email clients).
This dramatically improves productivity for your readers..
RSS is amazing, when you know how to use it.  If you're new to RSS and want to know how to use it, why not 'subscribe' to your favorite blogs' feed and check it out?  If you don't have a RSS reader – try Google Reader – it's free and relatively easy to use.